SD's take on the classic Wagon Wheel. 

We don't wanna toot our own horn or anything but these are the best Wagon Wheels ever!!!
Made with our signature fluffy marshmallow accompanied by sweet jam and buttery biscuits all of which is coated in chocolate!
Customer Reviews
23 Sep 2021
Megan L.

Australia
Wonderful Wagon Wheel
These look incredible and were delicious. Such a generous size and made for a wonderful Father's Day gift. The service to confirm delivery was outstanding and very responsive.
23 Sep 2021
Linda M.

Australia
Father's Day Gift
The classic wagon wheels were a hit. Dad loved them and they arrived the day before Father's Day. Great service. Thank you.
23 Sep 2021
Natalie H.

Australia
Great gift delivery
My friends loved her sweet birthday surprise!
23 Sep 2021
Debbie H.

Australia
A work of art
Delicious was an understatement, decadent beautifully made treats that I would recommend
13 Sep 2021
Amy P.

Australia
What in the Wagon Wheel?!
These wagon wheels were absolutely incredible! So impressive to look at and so damn delicious to eat. Loved them and will be treating friends and family to them in future for sure!
03 Sep 2021
Kerry N.

Australia
Absolutely delicious
Was such a delicious treat
09 Aug 2021
Jodie B.

Australia
Sooo Goood
my daughter had these sent to me as a surprise. Delicious!! So Goood and terrific presentation. I have bought more for myself and as gifts.
Thanks so much, Jodie! I loved chatting with you while on deliveries. - Amanda xx
07 Aug 2021
Sarah S.

Australia
A-MAZING
These are the most delicious wagon wheels ever
Thanks Sarah! We appreciate you and your continuous support xx
05 Aug 2021
Melissa T.

Australia
Gourmet Wagon Wheels
I ordered these gourmet wagon wheels for my mother-in-law for Mother's Day! I also ordered a giant wagon wheel for her birthday in July and she accidentally got sent these meant for another person, so she was lucky to basically get a freebie as this amazing company was happy to resend my mother-in-law the right giant birthday wagon wheel free of charge when she didn't get it. Her review of these gourmet wagon wheels she got on Mother's Day and the free ones was this... So Delicious, loved them. Soft and tasteful. Thanks Sweet Darl'n.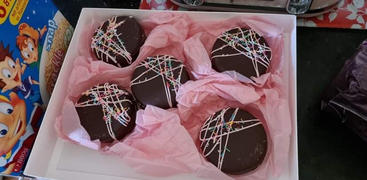 04 Aug 2021
Amy J.

Australia
Thumbs up
Amazing wagon wheels! Huge and great flavours! so fresh. Great packaging.
02 Aug 2021
Jess H.

Australia
07 Jul 2021
Renee B.

Australia
Home Made Yumminess!!
These took awhile to arrive due to the business being extremely busy at the time. Just when I thought to message the business as it was taking longer than normal I got an notification to say they had been shipped. However when they arrived they were packaged nicely & individually wrapped. They tasted great and only downside for me was that being that big they are difficult to eat without sliding and breaking everywhere. So probably better to cut them into pieces and eat. Glad I tried them to see what the buzz was about.
Hey Renee, Thank you so much for the review! You are incredible, thanks so much for understanding the wait time. >3
07 Jul 2021
Lisa J.

Australia
Wagon wheels
Awesome. Best tasting wagon wheels ever
Thanks so much Lisa! You are the best xx
06 Jul 2021
Nadia S.

Australia
Best ever
Best sweet we have ever purchased. Loved them.
06 Jul 2021
Karyn A.

Australia
The best wagon wheels
Such good value. The wagon wheels were the best we've had. Mum loved them!
Thank you so much, Karyn! We appreciate this so much!!!